Netflix reveals the top 10 movies streamed in the U.K. for July 3 to July 9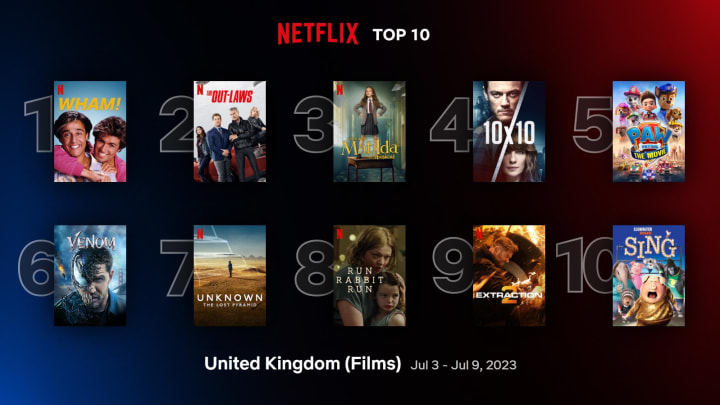 The top 10 films in the U.K. on Netflix for the week of July 3 through July 9 /
When it comes to the top 10 list for movies streaming on Netflix in the UK, it feels like we are looking at a mix of whatever has released recently and comfort watches. And while there was a definite shakeup in terms of what made it to the top of the chart for July 3 to July 9, there were definitely some older movies that are getting a chance to shine.
One movie in particular has made its way back into the top 10 (and it was a chance to learn exactly how Netflix does their weeks in the top 10 counts) and is definitely something for the kids to enjoy. But at the same time, it also has the air of being a comfort watch for others.
So what exactly were the most watched movies on Netflix for the first full week of July? What were people streaming in the UK?
The top 10 streamed movies in the UK on Netflix for the week of July 3 to July 9
According to the Netflix Top 10 page, here are the most streamed movies in UK for July 3 to July 9:
WHAM! (First week in the top 10.)
The Out-Laws (One week in the top 10.)
Roald Dahl's Matilda The Musical (Three weeks in the top 10.)
10x10 (Two weeks in the to 10.)
Paw Patrol: The Movie (Four weeks in the top 10 list.)
Venom (One week in the top 10.)
Unknown: The Lost Pyramid (One week in the top 10.)
Run Rabbit Run (Two weeks in the top 10.)
Extraction 2 (This movie has been on the list for four weeks.)
Sing (This movie hasn't been on the charts for a while, but with this addition to the top 10 that makes 13 weeks at the top of the charts since it originally dropped on Netflix.)
We love to see how things are shaking out on the Netflix top 10 charts as it gives us an idea of what people are watching and enjoying. It can also inspire us to sit down and watch something new.
It was nice to see some new films in the top 10 and even see something older get a chance to shine again. Are you surprised by this top 10 list at all?